15 bands will be featured in two-day AmeriServ Flood City Music Festival | Entertainment
7 min read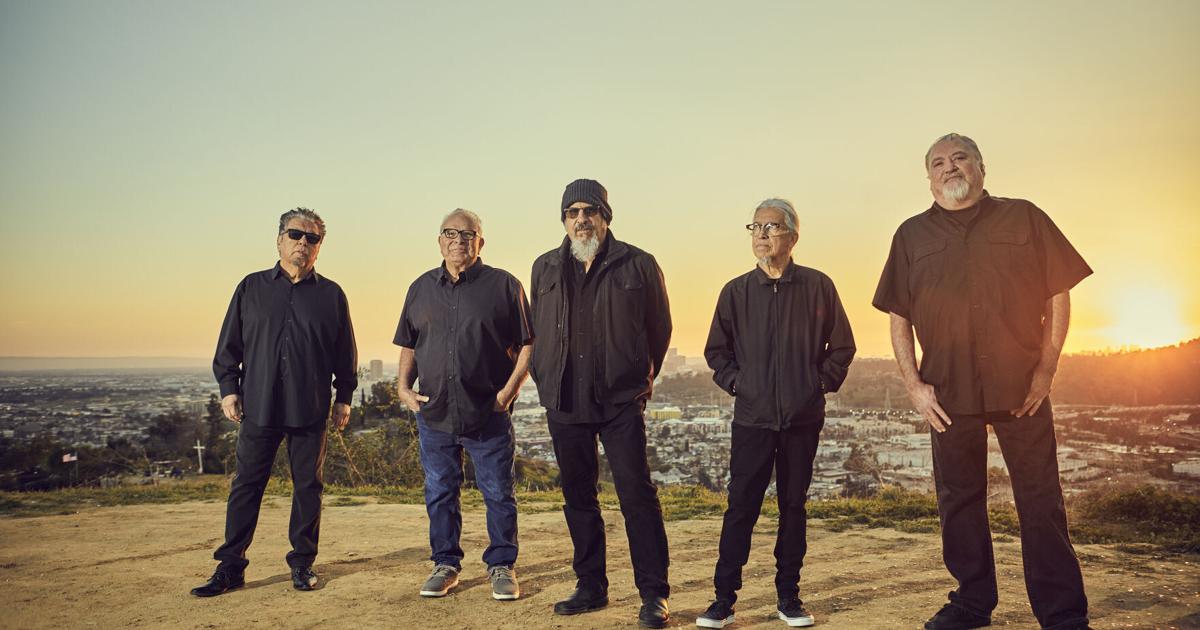 JOHNSTOWN, Pa. – AmeriServ Flood City Music Festival will have the house rocking.
The festival, which will be held Friday and Saturday at Peoples Natural Gas Park, 90 Johns St., downtown Johnstown, will feature 15 bands, including headliners Los Lobos and Keller Williams' Grateful Grass featuring The Hillbenders.
"This is a jam band lineup – up and down the roster – probably more of that sort of music than we've ever done before," said Ron Carnevali, festival chairman.
"We always look for bands that do great live shows.
"We've been fortunate enough to have members of our committee see most of the acts we have on the roster this year, so we know we're getting bands that do great live performances."
The festival offers an array of genres, including roots, rock, country, bluegrass, southern rock, rockabilly and blues.
"We have a lot of variety," Carnevali said. "We want diversity in the lineup in terms of musical styles and composition of bands."
Friday, Saturday headliners
Keller Williams' Grateful Grass featuring The Hillbenders will headline Friday's lineup.
The group is defined as loose interpretations of Grateful Dead songs done in a bluegrass style. Williams took his fascination with Grateful Dead songs and mixed it with his love of psychedelic improvisational bluegrass music, and out came this project.
"Keller is an interesting character in the alternative bluegrass scene," Carnevali said. "I'm excited that he's bringing The Hillbenders. I saw their set at DelFest over Memorial Day weekend and they were tremendous, so I know we're going to have a lot of great musicianship behind Keller's bluegrass take on Grateful Dead music. A lot of of people are excited about it, and it has gotten a lot of positive comments on social media."
On Saturday, Los Lobos will be the headliner.
The band, which is celebrating its 50th anniversary, has sold millions of records, won prestigious awards and made fans around the world. But it's most lasting impact will be how well its music embodies the idea of America as a cultural melting pot.
Los Lobos' list of accolades includes three Grammy Awards, the most recent in 2022 for Best Americana Album, and being named a 2021 National Heritage Fellow by the National Endowment for the Arts.
"I'm really looking forward to seeing those guys again," Carnevali said. "They were such great people when they played here for us in 2010. Their music is tremendous. They're the real deal. I'm hoping there are people who remember their 2010 performance and want to see them again."
13 additional bands
An additional 13 acts will perform during the two-day festival.
Trouble No More is an eight-piece super group, honoring and celebrating the iconic catalog of The Allman Brothers Band. The super group's intense and up-tempo renditions of the bands' classic songs aim to bring energy and vitality back to the legacy of the greatest Southern rock band to date.
"It's fronted by Taz Niederauer, who played for us last year, and he's a tremendous young guitarist," Carnevali said. "It's going to be an interesting take on Allman Brothers music. I think people around here are really going to like it."
Doom Flamingo is a six-headed synthwave beast with a Dr. Jekyll and Mr. Hyde element to the songwriting. Top Gun guitar riffs and Miami Beach poolside lounge-vibes are all at once contrasted with darksynth sounds eerily reminiscent of old John Carpenter films.
"Maybe one of the best vocalists we will ever have at the festival is Kanika Moore, who sings for Doom Flamingo," Carnevali said. "I like their music and Kanika can really sing. The musical style is hard to describe, but it's pretty jammy."
New York City-based Melt formed in 2017 and is making waves on the music scene. With a sound that continuously pulls from new realms, Melt's core is a shared love of soul and psychedelia, existential pop songs and ethereal jam sections, and a deep love for each other.
"I saw them in Pittsburgh earlier this year, and they did a great set with really talented and excellent musicians," Carnevali said.
Dogs in a Pile merges funk, jazz and rock 'n' roll with psychedelia. The quintet presents a completely original vibe built on kaleidoscopic soundscapes.
"They are a bunch of classically trained musicians, and they're a band that's really up-and-coming in the festival scene," Carnevali said. "They're the kind of band that we'll be happy we had them this year because we wouldn't be able to afford to have them in the future. They're a jam band with lots of great songwriting."
Americana/roots acts
Since forming in 1988 in southern California, Big Sandy & His Fly-Rite Boys is one of the world's most beloved Americana/roots acts, drawing from the deep musical waters that flow just beneath the surface of rock 'n' roll's fertile soil. After nearly 35 years on the road and more than two dozen releases, the band remains a key figure on the ever-changing Americana circuit, both on record and in live appearances.
"Big Sandy is a stalwart in the rockabilly genre," Carnevali said. "I'm looking forward to his show the most because it brings back memories of the acts we used to have more frequently back in the FolkFest days. It's Americana, country, doo-wop and roots rock. It's old-time and nostalgic."
Yam Yam brings a diverse range of influences to the group, including jazz, gospel, jam and funk.
"They are a Harrisburg jam band, and they are on the rise, getting a lot of attention on the festival circuit this summer," Carnevali said. "We're pretty excited about having them."
The Mallett Brothers Band is an independent rock 'n' roll, Americana, country band from Maine.
"This is one of my favorite bands in the whole lineup, and we had been trying to get them to the festival for a couple years," Carnevali said. "I hear country music, rock 'n' roll and southern rock, and there's a lot of depth to what they do."
Pittsburgh-based
Based in Pittsburgh, Chalk Dinosaur features a fusion of electronic dance music, funk and psychedelic rock. It has distinctive melodic themes coupled with a heavy rhythm section and augmented with synthesizers and electronic textures.
"They're really cool and a fusion band, fusing a lot of styles together," Carnevali said.
Gabe Stillman hits the stage in high gear and only goes higher, embracing corners of American roots music with his impromptu selection of original gems and carefully chosen covers.
"He is a tremendous electric blues guitar player and performer," Carnevali said. "He's another act on the bill that's sort of like Big Sandy and takes me back and it's nostalgic."
Local musicians
Jeff Webb & the Delectable Sound is influenced by a variety of musical genres and musicians. Mixing a blend of original material with cover songs, the band features male and female vocalists, keyboards, guitar, drums, bass and horns. The band appeared at the festival in 2019.
"Jeff's one of the most talented musicians in town with a lot of cool projects going on," Carnevali said.
"This is a collection of some of Johnstown's best musicians, and we know we're going to get a great show."
The Evergreens are an indie folk duo from Johns-town. In addition to timeless-sounding originals, the band covers hits that have stood the test of time and have never gone out of season.
"They are a cool folk duo, and they've been playing shows regionally and a little bit of touring," Carnevali said. "They're a throwback sound for us with some of the folk stuff that we used to do a lot of."
The Jaded Lips describes its sound as "homegrown rock and soul." The Altoona-based trio has gone from the basement to the big stage in two years through hard work, tight song craft and high-energy performances.
"They're a talented young bunch of guys," Carnevali said. "They've been really enthusiastic about being on the bill for the festival and they've been doing a great job of sharing that excitement with their fan base, so we're hoping they're going to bring some folks to us from Altoona."
The Platelets is a genre-crossing rock band from the Johnstown area that formed in April 2016. Its debut album, "Steelworker's Soul," was released in August, and it expects to release another disc this summer.
"They're a young band of Westmont Hilltop High School graduates," Carnevali said. "This is sort of a reveal for the band on a scale above what they've done thus far. I'm hoping this is the kind of act that comes out of Johnstown and goes on to great things."
General admission tickets for the festival are $30 for Friday and $40 for Saturday.
A two-day pass is available for $50. A two-day VIP pass is available for $75 and includes access to the VIP Lounge and the site's full bar and indoor restrooms, as well as a special viewing area at the main stage.
Tickets can be purchased online at www.floodcitymusic.com. Passes also are available at the Heritage Discovery Center.

link