Appreciation: Jimmy Buffett, in his own words: 'What I see at my shows might look like Sodom and Gomorrah'
19 min read
Jimmy Buffett, who died Friday at the age of 76 following a four-year battle with Merkel skin cancer, knew exactly what accounted for his decades of success.
"I'm not a great singer, and I'm not a great guitar player. But I'm a good entertainer," the Mississippi-born Buffett said in an in-depth interview with the San Diego Union-Tribune in 2000. (All the quotes in this appreciation are from Union-Tribune interviews with Buffett conducted between 1991 and 2017.)
Buffett's tropical-flavored songs, starting with his 1977 breakthrough hit, "Margaritaville," were direct, simple and free of even a hint of artifice. By turns introspective and hedonistic, gentle and upbeat, they spoke to a large number of his fellow baby-boomers and made him a consistently popular singer-songwriter whose tours filled arenas, amphitheaters and even stadiums.
His audience — fondly known as Parrotheads and often colorfully attired at his concerts — happily embraced Buffett's boozy, beach-bum ethos. That ethos transformed him from a struggling young troubadour and onetime hippie and music critic into a billionaire entrepreneur and best-selling author.
Buffett's empire included an array of products, from salt shakers, cheeseburger-shaped pillows and a record label to restaurants and resorts. His newest Magaritaville hotel opened earlier this week in downtown San Diego.
But it was Buffett's songs and easygoing, "aw shucks" demeanor that fueled his success. The fact that those songs could be easily learned and played by almost anybody was not lost on him.
Buffett, who earned a degree in journalism in 1969, acknowledged the simplicity of his music in a 2017 interview prior to the La Jolla Playhouse premiere of the Buffet-inspired musical "Escape to Margaritaville." That partly autobiographical musical went on to have a brief Broadway run.
"I'm glad if I had anything to do with the fact solo guitar players around the world can play my songs and get a job," Buffett said. "I'm happy that happened."
The sing-song qualities of his music did not sit well with many music critics, who dismissed him as a second-rate talent with little to offer.
Never mind that, in a 2009 interview, Bob Dylan cited Buffett's "Death of an Unpopular Poet" and "He Went to Paris" as two of his favorite songs. Moreover, in 1982, Dylan teamed with Joan Baez at a concert to perform Buffett's wistful ballad, "A Pirate Looks at 40."
His critics, Buffett noted in a 2000 interview, didn't matter to him.
"I just don't listen to them anymore," he said. "Because, as Faulkner said, 'I don't read reviews — they hurt my feelings.' (Critics) say, 'Well, he's just playing the same old s—.' Well, that's what people pay to see. I'm an entertainer, and until I can't fill up seats, I'm not going to listen to any of that (criticism).
"I listen to my audience. I connect with my audience. I don't play at my audience, I play for my audience."
Later in that same interview, Buffett embraced the fact that he was as much a business magnate as he was a musician.
"I'd like to make a career out of being uncategorizable," he said. "I want people to say, 'He did this and he did that, but what did he really do?' That sort of fits me."
While many tributes to Buffett will be published, his legacy is best captured in his own words. Here are his 2000 and 1991 San Diego Union-Tribune interviews.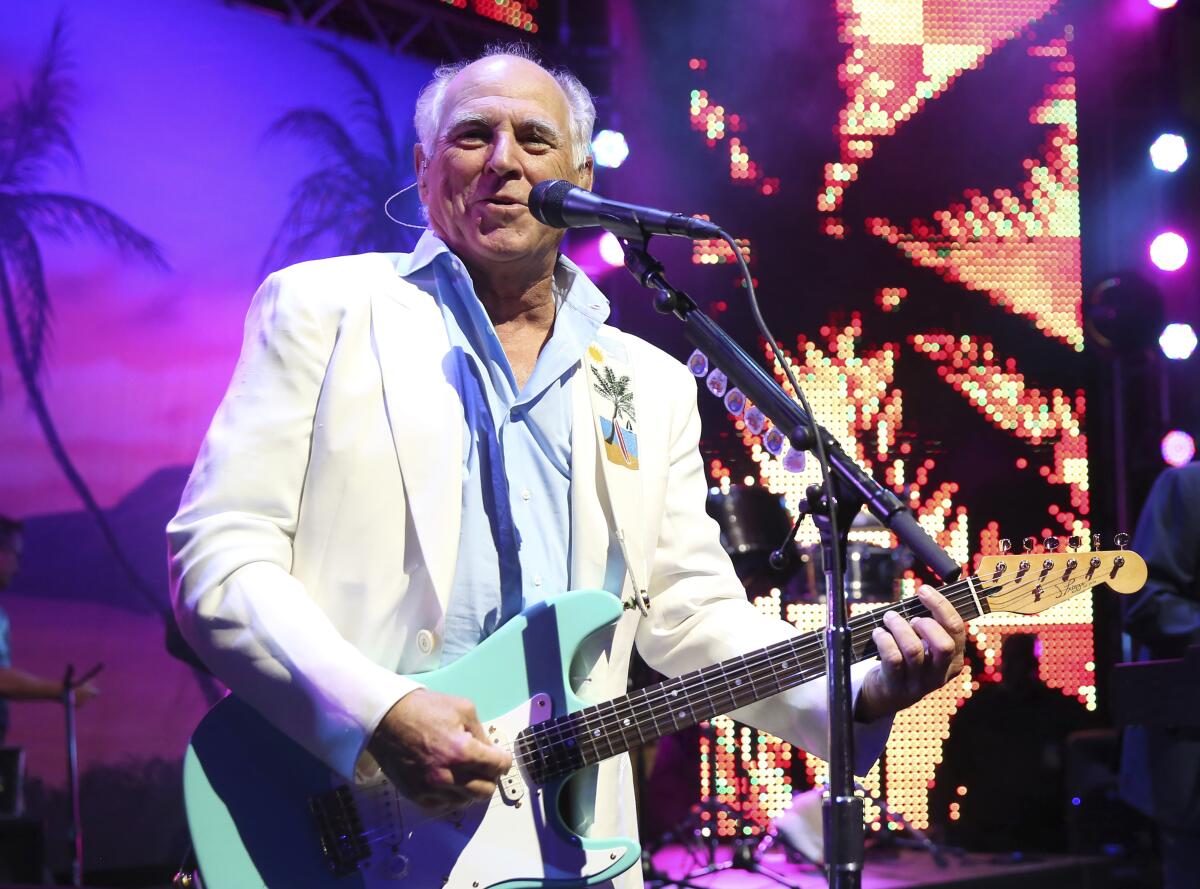 The Sun King — Fans give Jimmy Buffett latitude by embracing his attitude
BY GEORGE VARGA
MUSIC CRITIC
April 16, 2000, The San Diego Union-Tribune
What's Jimmy Buffett got that some self-important musical stars seem to lack?
In a word, candor.
That, and the ability to take his work seriously — even at its most lighthearted and irreverent — without taking himself too seriously.
"I'm not a great singer, and I'm not a great guitar player. But I'm a good entertainer," said the long-reigning king of sunny, party-hearty tropical-rock, who performs Thursday and Saturday at Coors Amphitheatre in Chula Vista.
"And it's worked so far. I don't try to be a great singer or a great guitar player, or try to play second base for the San Diego Padres. I know who I am, and I know my limits."
Those limits are well-defined on Buffett's 32 albums, the first of which — "Down to Earth" — was released in 1970.
His easygoing songs, which incorporate folk, rock, country and various Caribbean styles, favor simple melodies and straightforward sentiments, performed in a direct, no-frills manner.
But he is capable of wistful ballads, such as "Come Monday," "A Pirate Looks at Forty" and "Sending the Old Man Home," songs that provide a balance to his more upbeat numbers about the beach bums, barflies and seafaring smugglers whose faded counterculture dreams have gone to pot, literally and figuratively.
And Buffett, a best-selling author as well as a top-drawing concert attraction, knows full well that his legions of fans don't look to him for instrumental virtuosity, cutting-edge musical innovations or dense, Dylan-esque lyrical imagery.
What they want, and what he happily gives them, is a good time — a very good time.
"Am I going to go out and do a jazz record? No. Would I do a show of my favorite songs (by other artists)? Maybe in a bar, but not in a concert, because that's not what a crowd wants to hear," said Buffett, speaking from Florida to promote his current tour.
"What it comes down to as an entertainer is putting fannies in the seats. In order to do that, I won't stretch out and away from giving people a great show and their money's worth. You set those kind of boundaries for yourself. It's not about playing major-ninth (chords) or making a Brazilian record. People want to see Jimmy Buffett."
Indeed, they do.
Although it's been 23 years since his only Top-10 hit, 1977's "Margaritaville," and 21 years since "Fins" gave him his most recent Top-40 hit, Buffett remains one of the most consistently popular live acts in or out of pop music. A fixture on the annual list of top-grossing music performers for most of the past decade, he routinely fills 20,000-capacity amphitheaters from coast to coast.
His 44 summer shows in 1996 grossed $26.2 million, placing him ahead of such chart-toppers as Alanis Morissette and Reba McEntire, as well as Phish, the Dave Matthews Band and both that year's H.O.R.D.E. and Lollapalooza festival tours. In 1998, Buffett's annual concert gross topped $30 million.
But that figure does not include the income from his Internet radio station, Radio Margaritaville, or his five best-selling books (which place him alongside Ernest Hemingway and John Steinbeck as one of only six authors to top the nation's best-seller lists for both fiction and nonfiction). It also does not include his new Internet-focused record label, Mailboat, which last year released its first album, "Buffett Live — Tuesdays, Thursdays, Saturdays."
The Merchandiser
And it does not include the slew of Buffett-related merchandise, ranging from Hawaiian shirts ($50) and cheeseburger-shaped pillows ($40) to, yes, that "lost shaker of salt" (a relative bargain at $5 each). Those items, which brought in millions in 1994, are sold at Buffett's concerts, via his website margaritaville.com and at his growing chain of Margaritaville restaurants and gift shops in New Orleans, Florida's Key West and Charleston, S.C.
"I like running the ship. Even today, when it's as big and diversified as it is, I love it," said Buffett, whose combined 1994 income from his concerts, albums, books, merchandise and restaurants totaled $50 million, according to Forbes magazine.
"I'm about to finish up a book of short stories (due out in September), and I'm writing new songs. Believe me, I'd like nothing better than to have a shot like (Carlos) Santana; I believe I have one of those incredible records left in me (like Santana's 'Supernatural'). In the meanwhile, I'm having a great time writing musicals and books, and being successful in business.
"And it all stems from the fact we don't do it the way normal people do; it all stems from pleasure."
It's unclear if, by "we," Buffet means himself, his band or the employees who help operate his lucrative entertainment empire. Regardless, his business acumen is so impressive that he's earned the admiration of billionaire investor Warren Buffett, a distant cousin.
"He (Jimmy) calls me from time to time for advice," Warren Buffett told Forbes magazine in 1994. "But I should be calling him."
Nearly as impressive is this veteran singer-songwriter's ability to maintain his image as a rebellious American icon — a Hawaiian-shirted purveyor of hedonistic fantasies and laid-back escapism for his baby-boomer-dominated audience.
A mythical rebel without a pause, Buffett has become a role model of sorts — and a genuine pop-culture phenomenon — for millions of Parrotheads, as his colorfully attired fans call themselves.
But that is largely an outdated image, since this happily married father of three readily acknowledges that his wild-man days of parties and brain-frying rock 'n' roll excess are long behind him.
"I can't, at 53, do that life anymore," he said. "I only work three days a week now (on tour), because I feel like an old relief pitcher. I can do a good job, but I need a few days of rest in between. …
"So many people out there at our shows are my age, and their kids are in the same audience. And there are not a lot of bands where you see that — a cross-section of Middle America. It's very rare to see generations of families at shows. There's more to it than a party atmosphere."
That may be true. But Buffett's concerts are giant parties, which is the essence of their appeal. And more than a few of his fans regard his shows, and the tailgate parties that often precede them, as invitations to live out indulgences chronicled in such Buffett anthems as "Grapefruit-Juicy Fruit," "My Head Hurts, My Feet Stink and I Don't Love Jesus" and, of course, "Why Don't We Get Drunk and Screw?"
"I don't apologize for who I am, or what I've done," he said matter-of-factly.
"Have I transcended my party days? Pretty much so. But you can't legislate morality. And the interesting thing is, after 30 years of touring, I've gotten to know a fair amount of people who started as fans and became friends or business acquaintances, or who have been in (the) seats at my shows for the past 15 years. Because I want to know what they're thinking.
"And what I see out there at my shows might look like Sodom and Gomorrah to some people. But the only thing I can compare it to is (the tradition of) carnival. Whether you were the king of France, or a guy in the gutter, for three days a year you could put a mask on and be whoever you wanted. And when carnival is over, you put the mask away and go back to your job.
"And that's what we provide. The people who go to our shows go full-tilt. I hope that's what's going on … that they (only) do that when we come to town, and then go back to work. Does that kind of behavior result in fights or riots? It's happened, but it's very minimal compared to the number of people who have had a great time."
Lapsed Catholic
The recurring themes of morality (and the conspicuous lack thereof) in Buffett's songs can largely be traced back to his religious upbringing in the deep South. Or, to be more accurate, to his enduring status as a lapsed Catholic.
"Absolutely!" said Buffett, who was born in the Mississippi gulf town of Pascagoula.
"I would say that the great thing about being brought up by Jesuits is that they taught you this wonderful sense of superiority — that we were going to heaven, and everyone else was going to hell," he added.
"They bordered on lunacy, in terms of discipline and things you were supposed to do without question. Like other people of my geographic area — and I'm working on a book about this — there's a well you go to. Sometimes a (religious) reference will come up when I'm writing a song, even now, and I'll think: 'I don't know if I should put this in.' But until they burn me at the stake, I'll keep at it."
Is guilt — or at least the memory of it — a good source of artistic inspiration for Buffett?
"Oh, yeah," he replied. "You're saddled with guilt until you find out what it is. It's like a good nightclub or a good bar; if I find a good church, I'll go to it. I think it's very good for people to look at guilt, and get over it."
Another source of inspiration for Buffett is the years he spent as a struggling musician before his career ignited in the mid-1970s.
His first half-dozen albums failed to make much of a dent, with his 1970 debut selling a reported 324 copies nationwide. He performed primarily in bars and small clubs, not giant outdoor venues such as Coors Amphitheatre. Pop radio regarded him as, to paraphrase Elvis Costello, even less than zero.
Yet, given the benefit of hindsight, Buffett regards his early days of repeated commercial failure as a vital key to his success.
"I don't think I could be where I am today if I hadn't gone through the struggling period — me, or any other artist. That's part of the learning process, the maturing process and the creative process," he said.
"I'm very thankful it didn't happen in an overnight scenario. I pretty much had to earn it. Because I was not wanted back in those days. I pretty much sailed to my own orders. I didn't follow the norm. And I was lucky enough to carve out what I do, and to find people who liked the fact I did it with honesty.
"When you do that for 10 or 20 years without success, well, there are not a lot of people covering you when you are a nobody. And the only person who has to deal with that is the performer, when there's a lack of adulation, or they spell your name wrong on the marquee. Or when you can't find your albums in the record-store bins, and — when you do — it's under 'BU.' So you stick them at the front of the 'B' bin."
Luck, and pluck, helped Buffett to rise up from his sub-cult-artist status. So did his unwavering determination to make an impact through his music.
"It's so hard, because you have no power in the beginning," he said. "In my day, if you didn't give away your (music) publishing rights, you wouldn't get signed (by a record label). I did give my rights away. But I was lucky enough to get them back, before 'Margaritaville' became a hit.
"I got successful, and beat the odds. But I'm very much attached to how I was in those days; the perspective is the important thing to keep."
Jimmy Buffett on his:
Pivotal musical moment: "I saw a folk-music group on stage in Biloxi (Mississippi) in about 1961, The Village Singers. And it was the magic of performers working an audience — three guys with Martin (acoustic) guitars, entertaining people. When I saw that magic of entertaining done so well, bam! I said: 'I want to do that.' "
First performance: "A month later, after playing in front of my bathroom mirror, I went to a hootenanny night. My mom brought her friends, I got on stage, and I was awful! I'll never forget it. I had a terrible guitar, a Stella, that I kept in a canvas bag … and I remember how bad I was. But if I hadn't gotten up there, it never would have happened for me later."
Stage fright: "It was terrifying when I started out. And it certainly wasn't comfortable for a while, until you figure out a comfort factor. Most people get scared to death walking on stage in front of 20,000 people. I don't talk about it much; it's like the magician's bag of tricks."
Counterculture days: "Was I a hippie? Absolutely, yes. In 1966 I was playing acid-rock in a band called the Upstairs Alliance; we were trying to sound like Jefferson Airplane. Do my kids laugh at photos of me from back then? Oh, yeah. It's kind of funny for them to see dad with hair!
"… I don't know if it was so much that people had hope back then, as much as people (were) having a good time. There was a real camaraderie and sense of community then; now there's less of that. But the Internet, for all its good and bad points, has a real opportunity to recreate that sense of community at a smaller level."
First day-job: "I'd gotten a degree in journalism in 1969, and it came in handy, although I had no plans to use it. I tried to make a living as a singer in Nashville, and couldn't get work. One day I answered an ad in the paper; Billboard (the top music-trade weekly) was looking for an editorial assistant."
First mentor: "I was working for Bill Williams, Billboard's country-music editor, who knew the music business like the back of his hand. And that was worth 10 college educations to me. He'd heard my music, and had a sense I was going somewhere. He was probably the first great teacher I had, and you'd better listen to people like that, because the information he had was priceless."
Music-critic days: "I was a terrible reviewer, because I was so partisan and because I know what it takes to get up on stage. Anyone who had the guts to do that, I gave a lot of credit. I don't know many reviewers who have got up on stage."
Music-critic days, Take II: "The thing I really loved about it, and learned from, was watching the business of music — seeing the incredible bad deals artists got. Of the billions of dollars that have been made, only a small, small percentage goes to the artists. And these were people who, in the public's perception, were real successful. And they were broke. That was what I learned."
Songwriting: "I think it's the ability to tell a story, and to find a story, and you do that by listening. And you have to listen to a lot of other people to tell your story, and to find information that helps your (song) writing career. You also have to learn not to feel your opinion is the only one around, that you are fallible and that no one's perfect. And that is certainly true of me."
Performing: "I always loved musical theater. I kind of forced it into our shows a little, without making people think they were going to a Broadway musical. I started using choreographers, not to dance, but to show us movement for non-moving people. There are subtle things we put in that affected the shows, in a positive way. You have to go for those kinds of stretches, but they come naturally."
Nostalgic yearnings: "Rock was never meant to be safe or predictable; it was meant to be on the edge. And, back then in the early ''70s, it was. I don't mean to sound like an old fart, and I understand that music has to change, and it will. But I still believe the songwriting in the late '60s and early '70s — there is nothing that compares to it, and probably never will be, from Lennon and McCartney to Van Morrison, James Taylor, Joni Mitchell . I don't believe it will ever be as good as that again."
Advice to young musicians: "I'm certainly no crusader, but when people ask me, I say: 'You have to be in charge of your own career.' Because the odds and pitfalls are so great. My god! The road to success is littered with debris."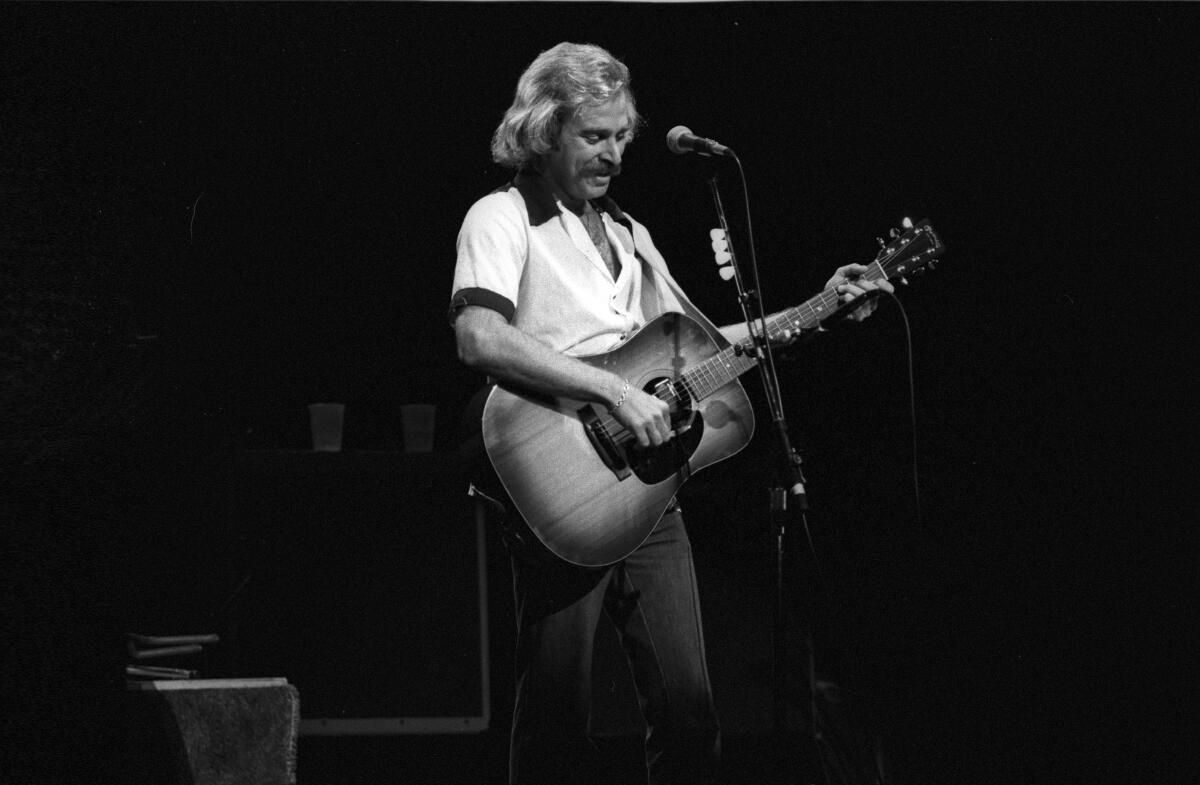 Parrotheads squawk over hero Buffet — Cult figure from Margaritaville
BY GEORGE VARGA
MUSIC CRITIC
June 14. 1991, The San Diego Union-Tribune
Jimmy Buffett doesn't have a hit album or a hot video, and he hasn't enjoyed Top-40 success in years. But the balding singer-songwriter who became an American pop-music staple with "Margaritaville," his 1977 anthem of tropical debauchery, has a huge national concert following rivaled only by the Grateful Dead.
And like the Dead, whose legions of fanatical followers proudly call themselves Deadheads, Buffett boasts his own cult — the Parrotheads, a high-flying group that regards his cheery brand of tropical rock as something of a musical holy grail.
"People name boats after my songs, they move because of my songs," said Buffett, who kicks off his U.S. summer tour tonight at San Diego State's Aztec Bowl. "I certainly never figured any of that would happen, but it is there, and I have to realize that."
The Parrothead moniker derives from the ersatz fowl headgear, rubber beaks, inflatable shark fins, tropical shirts and assorted beach gear that Buffett's fans wear to his concerts. There, they strut, preen and squawk with delight as he and his Coral Reefer Band perform such upbeat favorites as "Cheeseburger in Paradise," "Fins" and the mantralike "Why Don't We Get Drunk and Screw?"
Of course, Buffett also has a more sensitive side, as demonstrated by such proselike ballads as "Come Monday," the melancholic "A Pirate Looks at Forty" and the autobiographical "Son of a Son of a Sailor." But it is his party-hearty demeanor and boisterous bonhomie that bring his constantly expanding cult back to see him year after year.
"The (parrot) headgear started in Ohio, which is a hotbed of the dress-code for Parrotheads," said Buffett, who now markets a variety of Parrothead items at his concerts. "I guess landlocked people tend to appreciate the ocean more than those of us who live on it."
More than music and zany outfits, Parrothead-dom is a celebratory way of life. To a neophyte Buffett concertgoer, all the fuss might seem a mystery. But to his many devotees, attending a Buffett concert is as American as Mom, apple pie and mai-tais.
"Yeah, it definitely goes beyond the music," the 44-year-old performer said. "But beyond me making the songs at the time, I don't know much about what goes on when other people interpret them. But I do have the good sense to not say, 'OK, I'm not going to do any of the old songs anymore.'
"There's a basic set that people want to hear, and I'm not going to deprive them of that. Because, to me, that's what an entertainer does — he provides a few enjoyable moments for people who use that to alleviate the rigors of modern life."
And if music critics don't like that — and some don't — Buffett doesn't care.
"I just don't listen to them anymore," he said. "Because, as Faulkner said, 'I don't read reviews — they hurt my feelings.' (Critics) say, 'Well, he's just playing the same old s—.' Well, that's what people pay to see. I'm an entertainer, and until I can't fill up seats, I'm not going to listen to any of that (criticism).
"I listen to my audience. I connect with my audience. I don't play at my audience, I play for my audience."
Buffett doesn't often give interviews to reach an audience.
"I'm not trying to hype anything, and I don't have to sell anything," he said. "I don't have a new album coming out. And in a world fraught with overexposure … I mean, how much more Madonna can we take? It's that tendency to pitch and pitch, and I don't do that.
"I don't need to sell tickets. We just sold 57,000 tickets in two hours in Cincinnati and broke the Rolling Stones' (box-office) record." (By contrast, "plenty of tickets" are still available for his show tonight at the 18,500-capacity Aztec Bowl, according to a concert spokesman.)
For nearly an hour, Buffett happily discussed many facets of his multifarious career, including his songwriting and novels, the media, MTV ("I don't watch it"), fame, critics, his youth, his pre-music days as a journalist, his abiding love of the sea and literature, and even his status as a lapsed Catholic and its effect on his work.
"Catholicism was the root of a lot of suffering and pain for me that has now turned into humor," Buffett said, speaking from a Malibu hotel where he was putting the finishing touches on his next novel.
"It pops up quite a bit in my work, and it always creeps into my writing, because it is always amusing, and I guess I'm trying to get back at them in some way!" Time to write
Born Christmas Day in the small Mississippi town of Pascagoula, Buffett earned degrees in journalism and history at the University of Southern Mississippi before turning to music full time.
Inspired in particular by Jerry Jeff Walker, the Texas-born composer of "Mr. Bojangles," he came of musical age in the late '60s in New Orleans' French Quarter where he honed his songs and learned how to hold an audience. After several false starts (his debut album, "High Cumberland Jubilee," reportedly sold 342 copies), he struck it big in 1977 with "Margaritaville," the hedonistic song he now calls "the screenplay that won't die."
His 1989 book of short stories, "Tales From Margaritaville," sold more than 150,000 copies. His next book, a novel about a free-wheeling Alaskan seaplane pilot, is at 600 pages and counting after some firsthand research flying to such remote Alaskan outposts as Dutch Harbor and Cold Bay.
"I think I held off my writing, in that it seems to have come at the right time — at middle-age — when, fortunately, I still have a thriving career, unlike a lot of middle-aged rockers out there who are either dinosaurs or over the hill. I'm very thankful for that.
"But writing a novel, as I'm finding out, is a hell of a lonely, tedious and demanding thing to do because it's just you."
Delighted by his ascent into middle-age ("I'm sitting pretty much on top of the world," he crowed), Buffett now intends to do anything and everything that strikes his creative fancy.
"I'd like to make a career out of being uncategorizable," he said. "I want people to say, 'He did this and he did that, but what did he really do?' That sort of fits me."
link