Freddie Mercury Piano sells for 1.74M – our picks from Bonhams sale
3 min read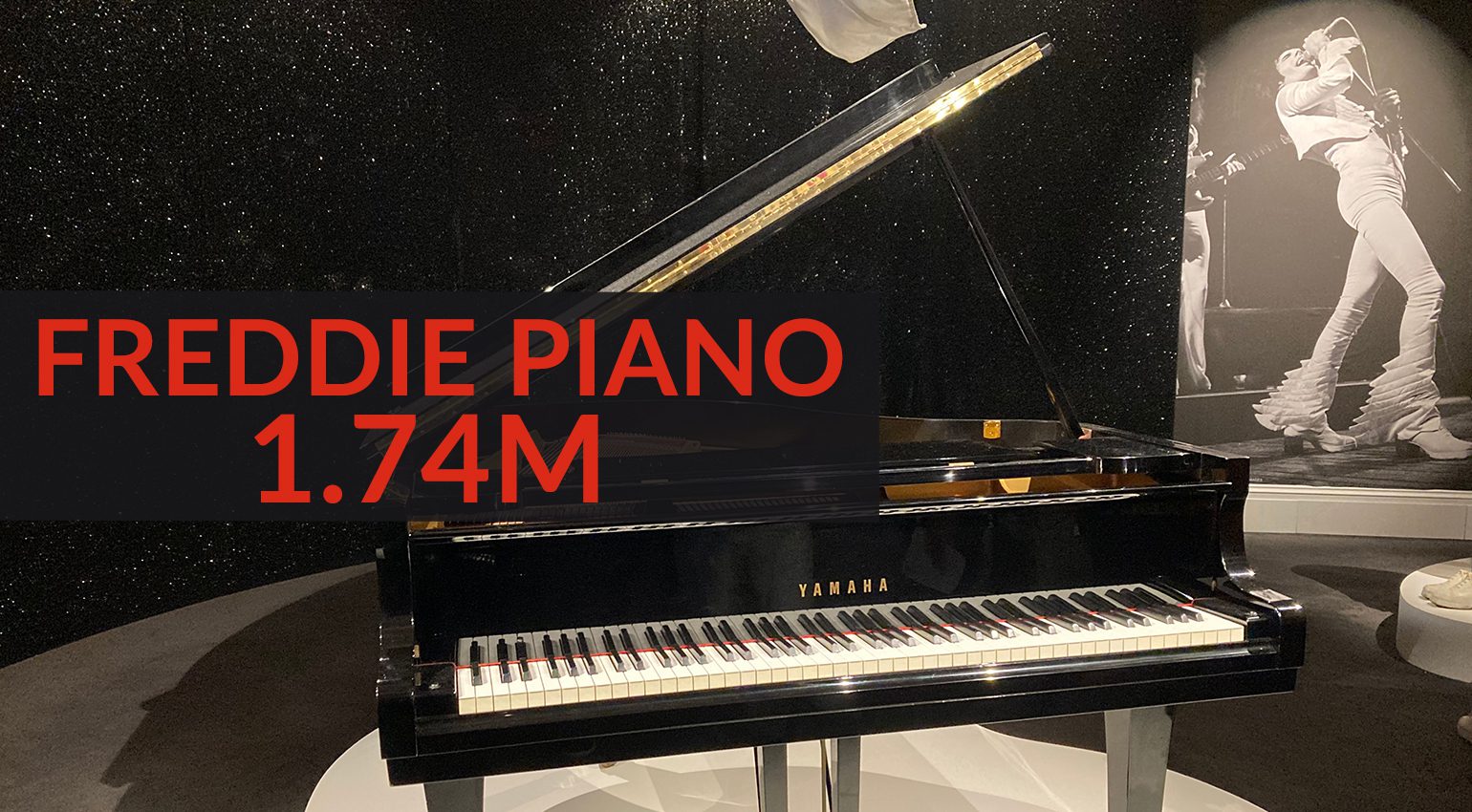 · 

Source:
Bob Malkowski/Gearnews
The Freddie Mercury Piano, a Yamaha Grand owned by the legendary singer/songwriter/performer sells for £1.74M. We looked around the Bonhams sale and found a few musical treasures that caught our eye…
Freddie Mercury – A World of His Own
A few weeks ago I was in London and visited Bonhams auction rooms on the open weekend of this historic sale. After decades of being in storage, all of the late, great Freddie Mercury's personal effects go under the hammer. Amongst the jaw-dropping collection of art, furniture, jewellery and so on, were artefacts to give any muso a sheer heart attack.
Here are a few of my personal pics from the sale…
The Freddie Mercury Piano
The star lot of Bonham's auction was this Yamaha G2 baby-grand piano; an eye-opening lot for a few reasons! I, personally, have always associated Freddie with Bosednorfer, Steinway or Fazioli grand pianos. However, this particular Yamaha was Freddie's own personal piano that lived at home with him and was purchased in 1975.
Bonhams listed the piano as the exact instrument upon which Freddie composed hits such as Bohemian Rhapsody, Don't Stop Me Now and Somebody to Love. This historic instrument went under the hammer for a sale price (including fees) of £1.74M (approx €2M/$2.17M).
It's not the first time we've seen celebrity instruments fetch huge figures at auction. Kurt Cobain's stage-smashed Fender Strat sold for a shade under $600,000. At least Freddie's piano is still playable!
Hammer to Fall
Additional star items were hard-written lyrics for Queen songs, including those for Bohemian Rhapsody, which alone sold for over £1M! As a life-long Queen fan, it was quite humbling standing in front of those hand-drawn lyrics. Controversially of course, possibly the last time they'll ever be in one place and together, ever again.
There were a few other musical artefacts however, that really caught my eye. We usually associate Freddie with the piano as his musical instrument of choice, but two guitars from his estate went under the hammer. One a very fine, 1975 Martin D-35 Acoustic, said to have been kept by Freddie at home since 1977.
Additionally, there was an incongruous "Satellite" branded 1970s Stratocaster copy, probably made in Korea. It seemed a strange choice for one of the world's wealthiest and most successful musicians, but I suppose Fred saw something in it!
Radio Ga Ga
I was particularly taken by Freddie's Hi-Fi setup, which at first glance looked quite conventional… until you looked closer at the components! At the bottom of the Hi-Fi stack sits an Amcron PSA-2 power amplifier. For its time, an extremely high output amplifier, (220W per channel into 8ohms) usually seen in the control rooms of recording studios. Clearly – Freddie liked his music loud!
There was also this RAM 10-channel analogue mixing desk listed for sale. I've not managed to find out much about RAM other than they were around briefly in the 1980s and stood for Recording Audio Mixers. At a guess, I'd say this was used by Freddie for home demos in conjunction perhaps with a small multi-track tape machine
We may, sadly, never know.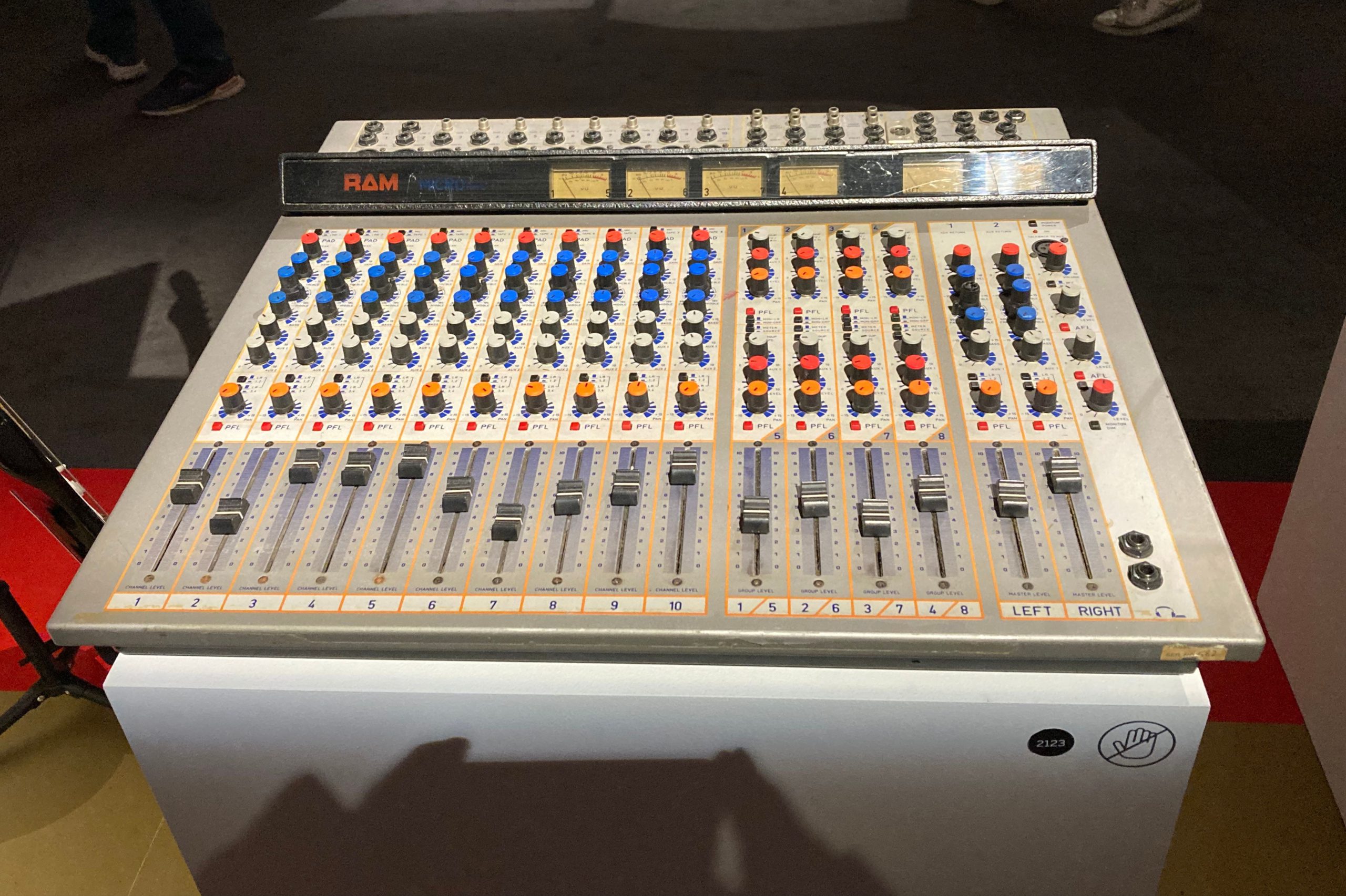 Did you visit the Freddie sale? What are your thoughts on Fred's personal belongings being sold off? Did you buy any of the lots yourself? Let us know in the comments!
More Information
Image Sources:
Freddie's hand-written lyrics for Bohemian Rhapsody: Bob Malkowski/Gearnews
On the left a Martin acoustic and the left a Satellite electric guitar – both owned by Freddie Mercury.: Bob Malkowski/Gearnews
Freddie Mercury's Hi-Fi setup: Bob Malkowski/Gearnews
link