I searched for the best relaxing music channels to livestream on YouTube. I found a complicated internet community.
6 min read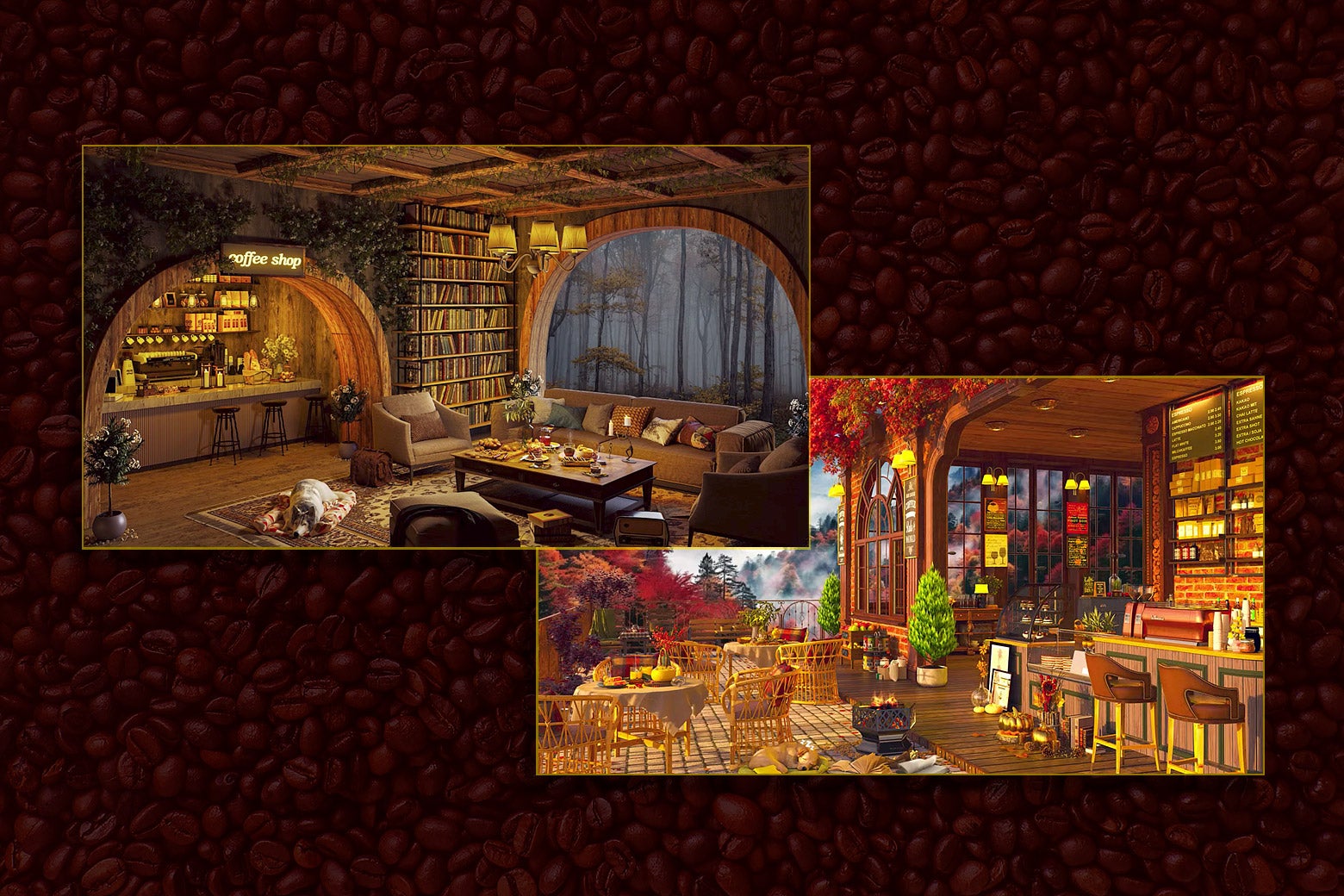 Sign up to receive the Future Tense newsletter.
I'm in a coffee shop with 4,404 people. A husky lies on the clean wood floor, a thriving monstera plant is perched in the corner, and snow falls lightly against the large panel windows.
My 4,403 companions are in the coffee shop with me, but they are also all over. One is walking to work in Taipei; another is revising exams in Belgium. Someone else is watching the sunset in Montreal, smoking a cigar.
The thing that brings us all here is the soft jazz music, piped through a YouTube livestream, set against a picturesque animation. There is nothing unique about this stream—search "coffee shop music" on YouTube and you'll find a long list of options, all aesthetically similar. But there is something about these videos that seems to keep people there: the live chat. On many streams, the chat screen lights up at a pace almost as consistent as the relentlessly relaxing beats it accompanies.
I stumbled across these channels a few weeks ago, after I had some trouble installing Spotify—host of the trusty "Deep Focus" playlist I've listened to for years—on my work computer. I selected a YouTube video with an illustration of a European coffee shop framed by falling leaves and then clicked away from the tab. When I clicked back, a conversation in the corner of the screen caught my eye: someone complaining about a test, others reassuring them they would do fine. Imagine that, I thought. Perhaps the internet can still be like this: strangers, behind their screens and far apart, coming together and leaning on one another.
Many of these channels are genre-varied offshoots of a much larger "lo-fi hip-hop radio" phenomenon on YouTube. In 2018 for Vice, Luke Winkie (now a Slate colleague) described the explosion of live lo-fi channels as "endless, non-perishable YouTube streams that run 24/7, delivering the chillest, most amicable vibes to a legion of traumatized university students." The most famous of these live music channels is Lofi Girl (formerly ChilledCow), which has 13.2 million subscribers and pairs its music with anime illustrations of a character and her cat. And because of the integral nature of the live chat function during streams, the music itself has always been a sort of means to another end—community. Indeed, five years ago, in an article for Dazed, Kemi Alemoru put words to what I now found myself feeling: Lo-fi livestreams were, she wrote, "some of the most uplifting environments on the internet." Today, on Lofi Girl's most popular daily stream (which often has more than 30,000 viewers at any given time), the chat box continues to scroll so quickly that it's hard to keep up with, yet people still greet one another by name and pick up old conversations.
The "relaxing jazz music, coffee shop ambience" channels I opt for are less popular than their lo-fi cousins, but the live chats still scroll away at a consistent pace. Once I began to observe them, I found the chats even more enticing than the pastries behind the fake coffee shop counter. Each comment, it seemed, weaved a complex social network. Some users posted unconnected reflections: "I use this when I'm teaching class and my students find it soothing," wrote one commenter. "I'm training abs right now. This wonderful sound gives me extra power to fulfill the series," wrote another. But the more interesting comments felt like a sort of reaching out. "Great morning; half way thru the week let's finish strong," wrote one user. "See y'all in a few hours," he added, "this has been getting me thru the day."
On some channels, regulars let one another know when they log off and on, occasionally apologizing for delayed replies. "Sorry guys," someone recently wrote on one of the more popular streams, "I'm at the hospital and getting all the instructions and notes on the procedure today." Other users chronicled their lunch breaks, what they made for dinner, when they had to get up to pee. One described going to a psychiatric hospital, while others discussed their favorite seasons. On one channel, users seemed to be hopping back and forth from a parallel chat on a linked Discord channel.
At first, I found observing these chat streams refreshing—I was clinging to my hopeful idea of an internet community characterized by kindness. Unfortunately, though, I soon realized that this wasn't an oasis removed from the all-too-familiar toxicity we see elsewhere online. As I read chats more closely, scrolling back in their histories, it was easy to find the sort of homophobic, antisemitic, racist, violent, and misogynistic comments that characterize so many parts of the internet. Sometimes they were wrapped up in emojis, or a series of successive one-letter messages, or in other languages or offhand complaints or "jokes." They were often sexual. One evening, as I tried to work through some emails in one tab, I watched what seemed to be the aftermath of some (then-deleted) threatening or abusive comments from one user, Carlos, to a woman in the chat. "Sorry for intervening, but I didn't like how he was treating you," a user named Marcelo told the woman in Spanish, referring to Carlos' comments. "Thanks, I appreciate it," she wrote back. "I'm so naive." The conversation quickly changed tone. "How do you dance this song?" she wrote. "Very close together," he replied. "Whispering into each other's ears."
More-established channels have moderators, recognizing that creating community requires the sort of guardrails and intentionality that are never a given on the internet. But many of these smaller livestream channels are more bootstrapped operations, adherent to the same grind culture their content facilitates. Some channel owners claim to use their own music and illustrations; others use stock content. They lean on paid streaming servers to pump their content to subscribers and, if they qualify for the YouTube Partner Program, monetize it. Creators can also try to earn extra income through selling premium features and merchandise.
There is a mythology behind all this that seems central to the internet—the idea that with a computer and a bit of money to pay for a server and stock content, you can hustle your way to music that other people can then use to hustle to. A few people can make decent money this way; more people can make some money this way. (Several of the channels seem to have the same owner; channels comment on each other's videos in a sort of promotion loop.)
As I thought about the behind-the-scenes of the streams that came to form the soundtrack of my workday, I also thought more about the scenes they kept returning to: mansion libraries, pristine ski-resort coffee shops, European sidewalk cafés. I felt the same fond, naïve yearning toward those scenes and their aspirational aesthetics that I had toward the idea of an authentically kind internet community. As in, maybe we'll never be there—but what if we imagined we could be? Maybe that's why it's so tempting to hit play.
Here are some stories from the recent past of Future Tense.
Wish We'd Published This
"Tears of a Get-Rich-Quick Guru," by Nilesh Christopher and Zuha Siddiqui, Rest of World.
Future Tense Recommends
After a colleague recommended New Hampshire Public Radio's The 13th Step, it took me just two days to finish the infuriating, expertly executed six-episode series. In it, reporter Lauren Chooljian investigates pervasive sexual abuse in the addiction treatment industry, outlining the history, politics, and people that have made treatment precarious for so many women—and how it could get better.
What Next: TBD
On Friday's episode of Slate's technology podcast, host Lizzie O'Leary interviewed Bloomberg's Sarah Frier about how LinkedIn became (gulp) … cool. Last week, Lizzie spoke with Emily Baker-White, of Forbes, about her reporting on a draft deal between TikTok and the U.S. government that paints a picture of the future of internet regulation. She also spoke with Forbes' Chloe Sorvino—and a cat named Garbanzo—about the complicated quest for "sustainable" pet food. On Sunday, Lizzie will talk to Will Oremus, of the Washington Post, about how Facebook and Twitter—argh, X—are leaving disaster victims high and dry.
Future Tense
is a partnership of
Slate,
New America, and
Arizona State University
that examines emerging technologies, public policy, and society.

link