Post Malone on Creating Genre-Bending Music, World Tour, Tattoos, His Girlfriend and the Future
17 min read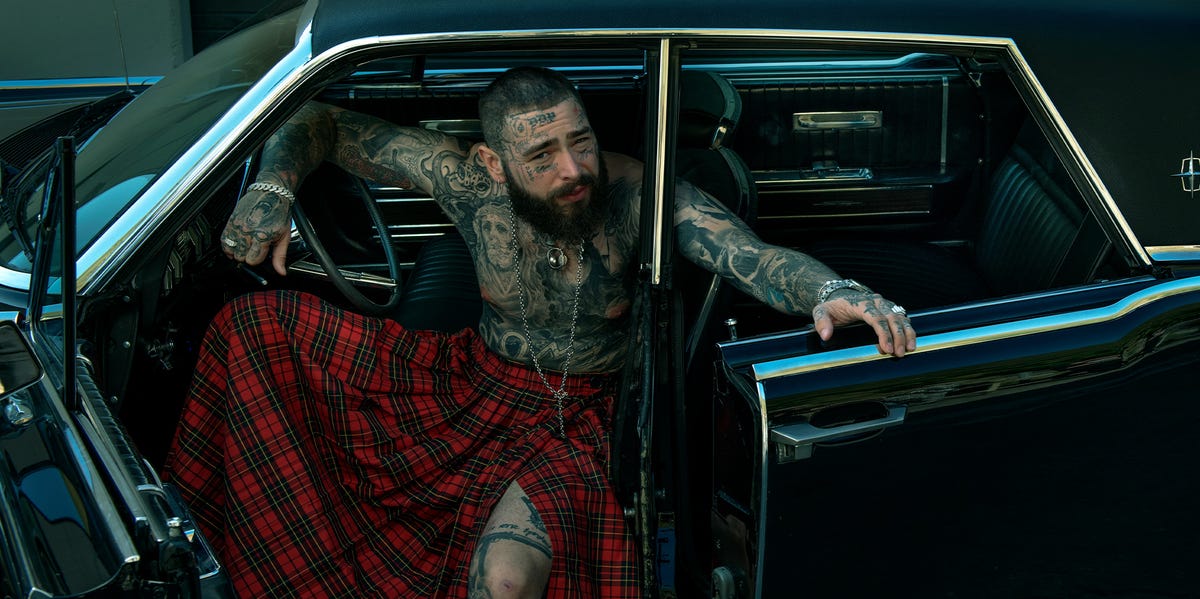 There are more than eight billion people on planet earth, and very few of them can remain relatable while they're telling you about the time the diamond fell out of their mouth. Not just relatable, likable. Your heart breaks when you hear how he hungrily bit into a Chicken McNugget that night in Rome, and how he just knew he'd lost that $600,000 fang. It hardly matters that the story has already been spoiled. The two massive, real-ass jewels are right there on his canines where they belong; a happy ending is a sure thing. But still: "I had the left one in my hand, and I dropped it right into the sink hole," he says. (Under normal circumstances, you'd correct him and say, "Drain," but you don't, because the guy is on a roll.) "I'm like, 'Fuck, man, I'm going to have to go into the ancient Roman sewers.' " You find yourself rooting for this guy to locate the twelve-carat gem that a team of dentists and jewelers shaped and polished and drilled into his teeth. You applaud his ingenuity when he tells you about how he rigged up a scooping device with a pair of pliers and a plastic takeout-pizza tripod; you relax a little when he retrieves it; you feel his victory when a Roman dentista gets it re-embedded. He did it!
It's all going to work out for Post Malone. Good for him. Let's get the man another beer.
---
Everything has been going Malone's way for some time now. Since the February night in 2015 when the then-nineteen-year-old uploaded a demo called "White Iverson" to his SoundCloud—from an inflatable twin mattress on the floor of a closet in a friend's furniture-free house in Encino . . . or was it Tarzana?—he's dropped three multiplatinum studio albums, one greatest-hits compilation, and his latest release, Austin (out this past July). He's been nominated for the Album of the Year Grammy Award twice and Record of the Year three times. He currently holds the record for the most diamond-certified ten-million-selling singles with eight, cruising past Bruno Mars's six earlier this year, and that's before the dust has settled on any of the singles from Austin. In an era when superstars are from the era before—Drake, Harry, Taylor, and Beyoncé were already well established by the time he hit that upload button in Encino or Tarzana—Post Malone is one of the few new faces to have saturated the culture. Everyone knows who he is. You mention Post Malone and people say, "Oh, I love him." And they mean it.
Then you ask the follow-up question: What's his whole thing? And they stop for a second. Sometimes they'll get out a "He's. . ." before they stop again. If you get a swing at an answer, it will be studded with "kind ofs": "He's a rapper, kind of," or "I guess it's kind of pop music," or "He just kind of seems like a really nice guy?"
It is easy to determine Bruno Mars's whole thing: Bruno Mars's deal is to be a hit machine with more ten-million-selling singles than anyone else. But he doesn't have those bragging rights; Posty does. Malone, now twenty-eight, has caught on in a huge way—the numbers and the nominations and the "Oh,I love hims" don't lie. He's a major star, and he has been for years now.
So what is his magic formula? What does Post Malone do?
---
Austin Post—Post Malone is a stage name he got from an Internet rap-name generator he used while creating that SoundCloud account—is near the end of the U. S. leg of his "If Y'all Weren't Here, I'd Be Crying" world tour. We're in Mountain View, California, at Shoreline Amphitheatre, a stone's throw from the Google campus. For the past few weeks, he's been crossing the country playing open-air venues. "This is my first . . . well, maybe not my first but I guess the most recent amphitheater run that I've done," Malone says backstage, in a silk-pajama combo, a Camel Crush burning in his fingers, "and the longest, I feel like."
The preshow party is starting to come together. There's a greenroom marked "Bible Study," stocked with booze and some Frito-Lay Fun Times Mix variety packs; there's a tasteful joint-rolling station on a nearby table; there's a cooler stocked with Malone's beverage of choice, Bud Light. I've been here for not quite an hour before we sit down for a proper talk, and the can he's just popped open is the fourth one I've seen in his hand. Malone's dad is on the tour for a couple weeks. Rich Post is fifty-seven, a salt-and-pepper beard down to his clavicle, polite and stoic and obviously bursting with pride. "I can't, in my wildest dreams, understand how this must be for him," he says. Rich has encouraged his son's musical pursuits from the beginning, having raised him on a steady diet of classic rock. "He's been my biggest fan forever," says Malone, "even when I was doing shitty Metallica covers, just singing in my room with my earphones full blast and he could just hear me yelling." And now here he is at another amphitheater full of fans. "Austin calls them Postmates, and that's pretty good, but I call them Post-Malonials." Rich smiles, satisfied with himself. "It hasn't caught on, but I love that one." Rich Post is a good hang.
There's one more stop after Shoreline and then Malone has a week off to spend on his property in Utah with his girlfriend, whom he will not name, and their daughter, whom they absolutely, positively will not name. The baby was born in May 2022. The first thing Rich said as they looked at her, through the window into the nursery, was this: "I told him, 'Now you can tell dad jokes.' You know what you are if you tell dad jokes before you have a kid? You're a faux pa."
This article appeared in the 90th Anniversary issue of Esquire
subscribe
---
When talking to or about Post Malone, you find yourself saying things you have never said. So here are five very common words that I am putting in this specific order for the very first time: He owns a sword forge. A couple years ago, Malone bought some industrial space in Utah and turned it into a working sword and knife factory, because it's his hobby, and this is a fact that is very specific and illuminating without at all answering the question of what his whole thing is. I ask whether it's true that he has a sword forge, and he answers the question in the one way you absolutely want that question to be answered, which is: "Well, fuck yeah." Other responsibilities are taking him away from it at the moment, but it's there. "I got this beautiful one-and-a-half-ton anvil to forge on, and we're getting the power hammer and all that stuff." When I interrupt him with the very professional question "The what now?" he explains: "It's like a hydraulic thing. You press on the pedal and it smashes metal down, so it's good for flattening out raw steel and shit like that. Then you take it to the anvil." Malone lights up when he talks about this stuff, like an energetic twelve-year-old with a new favorite toy and somewhere between five and eight Bud Lights in him. "There's nothing better than a cold beer, some good music, and just a hot-ass piece of metal and you're fucking whaling on it."
When you are talking to Post Malone, you also think things you've never thought. For example: We have got to get this poor guy off his amphitheater tour and back to his power hammer. "It's like the most manly thing you could do. I'm taking something thousands of degrees, banging on it with a hammer, and making it something to stab with. It'd only get cooler if you could do it on horseback." And then he's up for another Bud Light. Nine? One surprising thing you notice about Malone when you talk to him one-on-one is that he's actually very handsome. His blue eyes are expressive and friendly, and after a moment you see past the famous face tats and the grill and a traditionally attractive face emerges. Following his recent sixty-pound weight loss—he swears it's from cutting out soda—there may even be cheekbones. He refers to himself as a "big, ugly kid" a few times in our conversation, and whether he believes that assessment or not, he exudes an air of self-deprecation.
He gets preshow jitters, even now. "Oh, I am absolutely nervous," he tells me. "Before every song, I'm nervous. I don't really quite remember the words until one second before I have to say them, you know? There's so many words in these songs and I'm like, Fuck, I don't remember the second verse. And then I'll hear one cue in the music and I'll be like, All right, I know the words." He says he usually catches his stride by the second or third song. "You feel the crowd, and you just focus on the song, and you remove yourself physically and just do all the fucking high kicks, kicking high and fucking running around and jumping and shit. Then after the show, you feel it. My knees are so fucked." He seems to be moving around just fine, and also he's twenty-eight years old, so I ask, "Really?" And he says, "Yes, sir."
You will also experience a new kind of cognitive dissonance when you talk to Post Malone, because it is legitimately strange to hear so many "sirs" and "ma'ams" and "pleases" and "thank yous" come out of a face with that many tattoos on it.
---
It's a very specific kind of crowd at this preshow party. It's not VIPs from the tech world, or sexily dressed young women, or local celebrities (although Ray-Ray McCloud, wide receiver for the San Francisco 49ers, does show up with an entourage). Like the music itself, it's not noticeably rock or hip-hop or country. It's dude-heavy, and more than once when I am introduced to one of these dudes, a different dude will lean into my ear and whisper, "That dude is special ops." It's a lot of dudes who like guns, as Malone does. These dudes shoot guns, build guns, sell gun equipment, design shooting ranges. These dudes don't often run into pop stars, particularly pop stars who are into what they're into. They revel in his company, slap him on the back, and get very close to his face when they say things like "I will build you a rig, man," and then they slip away into the Bible Study room to pour some more Tito's into their Solo cups. I try a little experiment: In conversation with Rich, I raise my voice a little bit and work the word CrossFit into a sentence, just to see how many heads visibly perk up. Three.
Malone is affable. Into it, for sure. "I love running around in the desert with night vision and stuff, and these guys make a bunch of cool shit for that." He asks whether I've looked at the stars with a night-vision headset. I have not. "If you're just with your boys, and you're like, 'Let's have a couple beers, let's do a couple mushrooms,' and you put the night vision on, and then you just fucking look up, you're like, 'Oh my God. It's amazing. Next level.' " He smiles. "The goal is to be a kid, man. As long as you can." On that note—and I can say this now because the tour is over and it's been moved to a safer place—the very rare Magic: The Gathering card that he just bought for $2 million is on the tour bus while we're speaking. Malone had publicly expressed interest in buying the card. "I put a bounty on it," he says. The original owner reached out, came to a show, hung backstage, "and he was like, 'Hey, if you want it, it's yours.' And now it's in a secret hidey-hole on the tour bus. I don't trust it anywhere else. I need it super close."
I ask what's left for him to do, hobby-wise, now that seven-figure-game-card acquiring and night-vision tripping and sword-forge owning are checked off the list. "I'm looking at some land," he says, "and I want to build the craziest bunker farm, just a beautiful ranch where I can get the baby a pony and run around and raise some cattle and some alfalfa, because the end is nigh."
It is the most upbeat "the end is nigh" I have ever heard, and I ask if he believes it. "I do," he says. "I don't know exactly how long, but you can definitely feel a tension in the world, and it's not getting any less crazy. The air is so thick; there's so much angst and malice toward so many different things." He's right, and one of the objects of that angst and malice at this precise moment in American history is the brand of beer that's in his hand. For months now, Bud Light has been the target of boycotts and talk-radio rants, all for having paid for one sponsored Instagram post with a transgender woman. I ask Malone what his take on the whole thing is. "There is no comfort in this world," he says, "so I'm gonna do the small things that make me comfortable. I'm gonna drink the fucking beer."
He's popped open another. He gets up to do one more lap around the backstage area, and then, right at 8:00, he excuses himself, walks through a door behind a scrim, and closes it behind him. An hour of solitude before showtime.
---
Next year, Post Malone will do a set at Stagecoach, the weekend-long country-music festival on the polo grounds of Coachella. His music already has the boozy, confessional quality of country music, so it isn't a complete stretch. But this will be his first proper set within the genre. The seed was planted a couple years ago, when Malone closed out Matthew McConaughey's "We're Texas" fundraiser, and "I had the idea to do a set of country covers, a lot of nineties and 2000s stuff." His appearance with Dwight Yoakam's backing band from that night is on YouTube, and it's remarkable. What really stands out is how well he balances the two sides of the genre; he goes from Brad Paisley's 2001 hit "I'm Gonna Miss Her" (Brad's li'l lady made him choose 'tween her and fishin', see) right into "You Can Have the Crown," from Sturgill Simpson's debut. The corny and the credible, the mainstream and the progressive. Does a Stagecoach set signal a new direction? Shit, maybe. "Everybody comes up to me like, 'When are you doing a country album?' " he says. "And this is a nice little step into that world."
Which brings us back to the fundamental question of exactly what world he's in now, a question I'm no closer to answering after a nearly two-hour show. What I can say for sure is that he puts it all out there. The show has moments that are acoustic and vulnerable, moments that are trap-beats-y and boastful, moments when the string section really gets to let loose. He wails and he dances, and he hits that tremolo and plays that guitar and acts a fool onstage just like a rock star. He says "fucking" so much that it may not actually be a swear word anymore. He says, "Please buy a T-shirt so I can send my kid to college," and you forget for a second that in between the brain and the microphone, those words passed by $1.2 million worth of elective dental- diamond work. "Thank you so very fuckin' much," he says, a million times before the final time, and then it's over and he's backstage for the after-party. I hang out for a little bit, but there are twice as many people as there were before, the special-ops guys have had a couple more hours' worth of Tito's, a middle-aged Russian guy in hot-pink sneakers has hit the joint-rolling station and is staring through me, and Malone has a room to work. When the guy I'm talking to tells me, "I'm actually kind of a controversial figure in the world of CrossFit," I take it as the exit cue that it is.
---
We catch up again over Zoom a week or so later, after the tour has ended and he's had a week to reconnect with his girlfriend and their daughter. Now he's in the early stages of a South American tour. A few hours before we meet, he texts me a photo of himself, smiling big. Left canine and its attached twelve-carat jewel: gone. "On bread this time" is the message, with the crying-laughing-guy emoji. "Yeah, we went to a beautiful steakhouse down here, and I felt a click, and I thought, That feels weird. And then the next bite I took, I said, 'It's gone.' " He has it, though—another daring, last-minute rescue before it went down the hatch—and it will be popped back in tomorrow. "With some space glue," he tells me. And then I'm telling him he's got to be careful with that Chilean bread, and he admits, "I was kind of going buck wild on it," and I find myself thinking very normal thoughts, like You have to be careful when you get your teeth replaced with jewels.
I'm finding it impossible to describe the Post Malone formula, so finally I just have to ask, "Austin, what do you do?" His answer is quick: "I'm a professional Auto-Tune manipulator." But then he gets serious. "I don't know. I write songs and I sing them the best I can, and I just am myself, and I just want to go and rock 'n' roll." It's possible that the urge to try to classify Malone or his music is itself fundamentally out of date. We're currently in a post-genre musical universe. The recording industry used to organize artists into easily identifiable categories in order to market them and sell the pieces of plastic with the music on them. And we as individuals would, in turn, gravitate toward a category and define ourselves by it: I'm a heavy-metal guy, I'm a country gal, I'm a poptimist. Now everything is at everyone's fingertips, and we can do what humans are meant to do, which is listen to whatever speaks to us. "You used to get trapped in one thing and you're like, 'Oh, well, this is all I listen to,' " Malone says. "And that's what I think has made my career so interesting, just being able to fucking take what I like and mix it in a way that is authentic to me."
Malone isn't overthinking it. "I'm just Austin, and that's like the coolest job to me. A long time ago, that wasn't a cool job and I wanted to be someone else," he admits. Someone like A$AP Rocky or Mac Miller. "And then one day, I was just like, 'You know what? I'm going to try and do something different and just kind of put my own spin on shit.' I'm happy now, and I'm so grateful, and I'm just doing the best I can."
If you wanted to be uncharitable, you'd say what Malone does is scoop the tastiest bits off four different dishes and serve them up as a whole new recipe. But why wouldn't he? Malone was born in 1995, on the actual goddamn Fourth of July. That means he wasn't even eight when the iTunes Music Store opened, and every song he could think of was one frictionless, ninety- nine-cent click away. He turned sixteen in July 2011, when Spotify launched in the United States and he didn't have to pay by the song anymore. By the time he was out of high school, SoundCloud was turning bedroom hip-hop artists like Lil Peep and XXXTentacion into mainstream pop stars. So if Malone's music is a little bit country and a little bit hip-hop and—I swear, there are moments on Austin that sound like this—a little bit eighties adult contemporary, if he can collaborate with Bad Bunny and Lorde and Noah Kahan, well, that's what you should expect from a twenty-eight-year-old.
That's what pop music is now. That's what the future sounds like.
---
Story: Dave Holmes
Photos: Norman Jean Roy
Styling: Alison Edmond
Hair: Dan Perri
Skin: Melissa Rogers
Production: 3 Star Production
Tailoring: Maureen Lessman
Creative Direction: Nick Sullivan
Design Direction: Rockwell Harwood
Visuals Direction: James Morris
Executive Director, Entertainment: Randi Peck
Executive Producer, Video: Dorenna Newton

Editor-at-Large
Dave Holmes is Esquire's L.A.-based editor-at-large. His first book, "Party of One," is out now. 
link